Rent a bike in 
IJmuiden, Velsen, Beverwijk and Driehuis
Rent a bike in IJmuiden, Velsen, Beverwijk or Driehuis at many locations for 30 minutes to many days at every moment of the day all year long. Return the bike at any hub in Haarlem, Hoofddorp, Ijmuiden, Beverwijk and all other hubs. We have the following locations to rent 1 to 5 bikes per person:
Hub trainstation Driehuis;
Hub Velsen Pontplein at a free parkinglot, busstop and the free ferry
Hub Velsen Planetenweg / Zwaanstraat
Hub Velsen Marina Harbour. The bikes are standing in the third garage.
Hub trainstation Beverwijk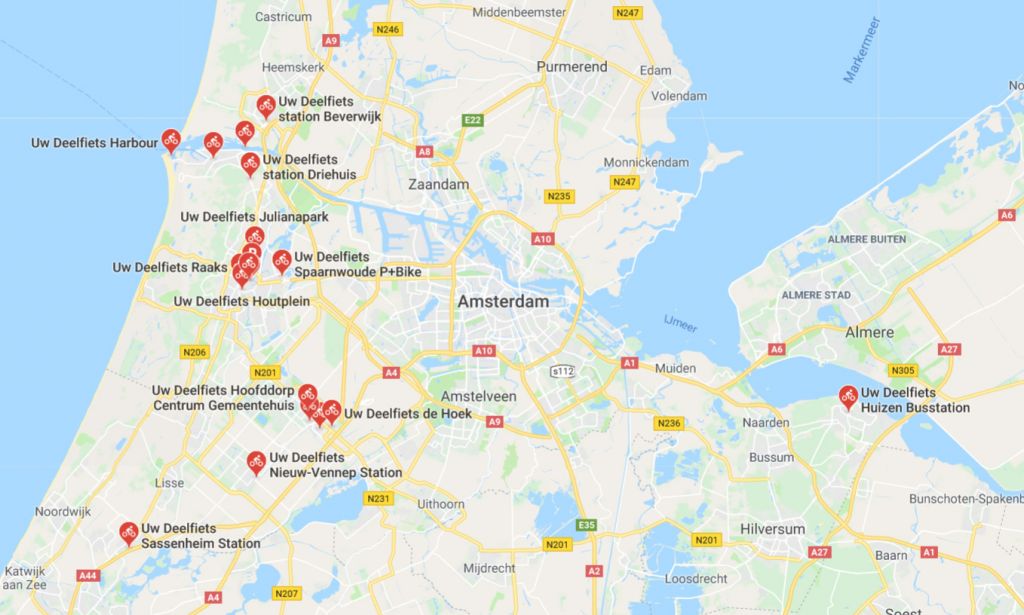 Discover IJmuiden, Velsen and Beverwijk with our bikes. If you want to spend some hours, we advise you to do:
Bike next to the biggest lock in the world. Maybe you spot a majestic Cruiseship or a giant containership. Visit SHIP and learn how important the Noordzeekanaal is for the IJmond and Amsterdam. And of course, you can't miss the biggest industrie of our country Tata Steel where one of the best steel is made in the world.
In the weekends check the Bazaar in Beverwijk and shop till you drop.
Bike to the Cruisterminal and wave to the incoming tourists. Take the boat and discover the fort island (but before you do check the openingtimes!). Finish the day and eat fish at one of the many restaurants or shops.
Get rest and enjoy the beautiful views in the dunes. Bike into our National Park Zuid Kennemerland.
Go to the beach, learn golf surfing or kiting, walk on the pier and have a chat with the fishers.
Discover Wijk aan Zee
Or if want to ski, just do it at Spaarnwoude and discover the park too!
We have set out some bike routes from 24 tot 50 km. Is it too long, you can return your bike at one of our hubs from Uw Deelfiets.
Enjoy IJmond with Uw Deelfiets. Rent a bike here!