RENTING BICYCLES TO LARGE GROUPS
Bike rental for large groups
Rent different types of bikes for a large group, that is possible with us!
Different bikes, delivered to your location(s) for one or more days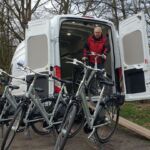 What type of bike would you like:
Elctric bicycles;
Bikes with(out) gears;
Children's bicycles;
Tandems;
Cargo bikes (non-electric).
We deliver the bikes at your desired times and location(s) in the Netherlands.
If you have another idea or request, we are happy to think along!
Permanent contact person for high customer satisfaction!
A satisfied customer is our top priority. That's why one contact, our host Perry, takes care of your request from start to finish. He is very experienced and knows all the tricks of the trade. On the day itself, he ensures that delivery is made in accordance with an appointment. Through our standard extensive on-site support, the bikes are ready on time in good condition and each bike is individually adjusted for each participant for an enjoyable bike ride. Upon returning we will be present in time to receive the bicycles and keys so that you can quickly enjoy the rest of your program.
Contact
Do you have a question or an order? Contact Perry by mail perry@uwdeelfiets.nl or by filling in the next form.