Hire a bike in
Hoofddorp or Nieuw-Vennep
Rent a bike in Hoofddorp or Nieuw-Vennep at many locations for 30 minutes to many days at every moment of the day all year long. Return the bike at any hub in Haarlem, Hoofddorp, Nieuw-Vennep, IJmuiden, Beverwijk and all other hubs. In Hoofddorp and Nieuw-Vennep we have the following locations to rent 1 to 5 bikes per person:
Hoofddorp Station close to the trainstation and hotels Hampton by Hilton, Novotel, Holiday Inn Express and Crowne Plaza
Hoofddorp Centre close to the Town Hall, culture house, movies, restaurants and on every Friday the market
Hoofddorp de Hoek, below the Connexxion busline to Amsterdam, Schiphol or Haarlem and at Bastion Hotel, NH Hotels, Best Western, Hyatt Place and Mac Donalds
Hoofddorp Beukenhorst
Hoofddorp C-Beta
Nieuw-Vennep Station
Nieuw-Vennep Getsewoud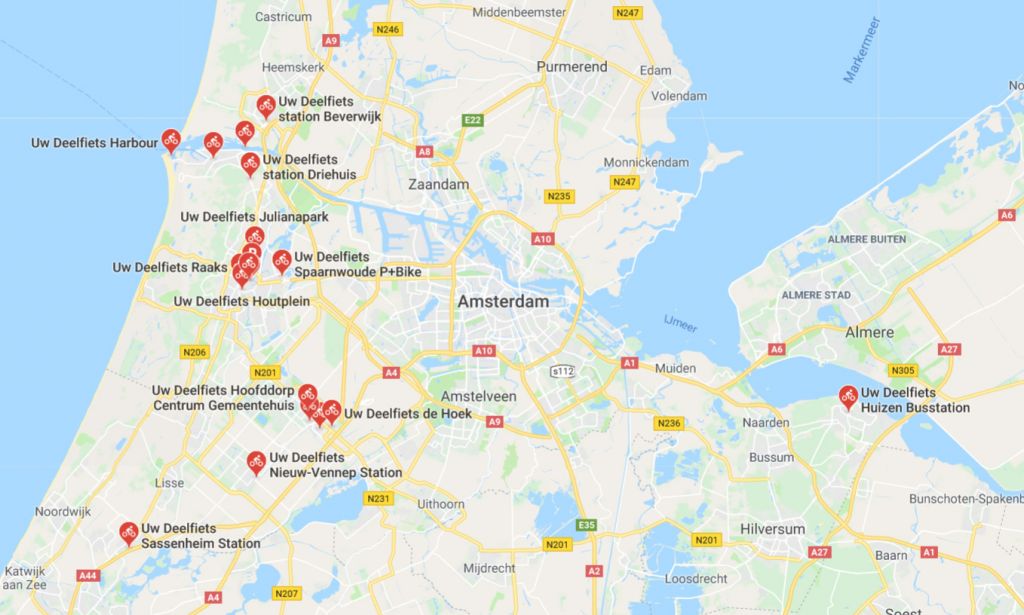 Do you want to spend some hours in Hoofddorp, Nieuw-Vennep or outside the cities. We recommend the following:
Discover Hoofddorp or Nieuw-Vennep via de city guide.
Within 45 minutes biking you can find the biggest flower auction in the world in Aalsmeer called Bloemenveiling Aalsmeer.
Haarlem, 45 minutes biking from Hoofddorp, the touristic place with her Cathedral, many shops, pubs and restaurants and Frans Hals Museum.
Ten kilomets from Nieuw-Vennep is the Keukenhof and many different coloured flower fields. The Keukenhof is open between March till May. Check the opening times before going! Click if you would like a special deal with train, bike and entrance ticket!
Hoofddorp: Spot the starting and landing airoplanes at the 3.800 meter long Polderbaan at the end of the IJweg close to the Haarlemmermeerse Bos. Did you know the Floriade was in this park in 2002. The National Monument MH-17 is located between the landingstrip and Haarlemmermeere Bos. Or check in the evening the nicely lighted Calatrava bridges between Hoofddorp and Nieuw-Vennep.
Have fun and enjoy Hoofddorp and Nieuw-Vennep. Rent a bike now at Uw Deelfiets!