Rent a bike in 
Haarlem
Hire a bike in Haarlem at many locations for 30 minutes to many days at every moment of the day all year long. Return the bike at any hub in Haarlem, Hoofddorp, Ijmuiden, Beverwijk and all other hubs. In Haarlem we have the following locations to rent 1 to 5 bikes per person:
Haarlem Station NS close to the hotel Golden Tulip
Haarlem Centre, at the Grote Markt close to the Bavokerk. Enjoy all the nice shops, restaurants, bars and many hotels in the neighbourhood
Haarlem Appelaar, just across Amrath Grand Hotel Frans Hals and parkingplace Appelaar
Haarlem Spaarnwoude Station, park your car for free and take the bike into the centre
Haarlem Houtplein, at the parkinglot, close to the park, busstation and the centre
Haarlem Jopenkerk, enjoy the movies and grap a beer at the Jopenkerk
Haarlem Julianapark, at the busstop line 385 from Velsen
Haarlem Lichtfabriek / Spaarnelanden
Haarlem Crown Business Center, enjoy the coffee or lunch in the restaurant for a fair price before biking
Haarlem Proeflokaal Jopen, explore the brewery and taste one of the many beers.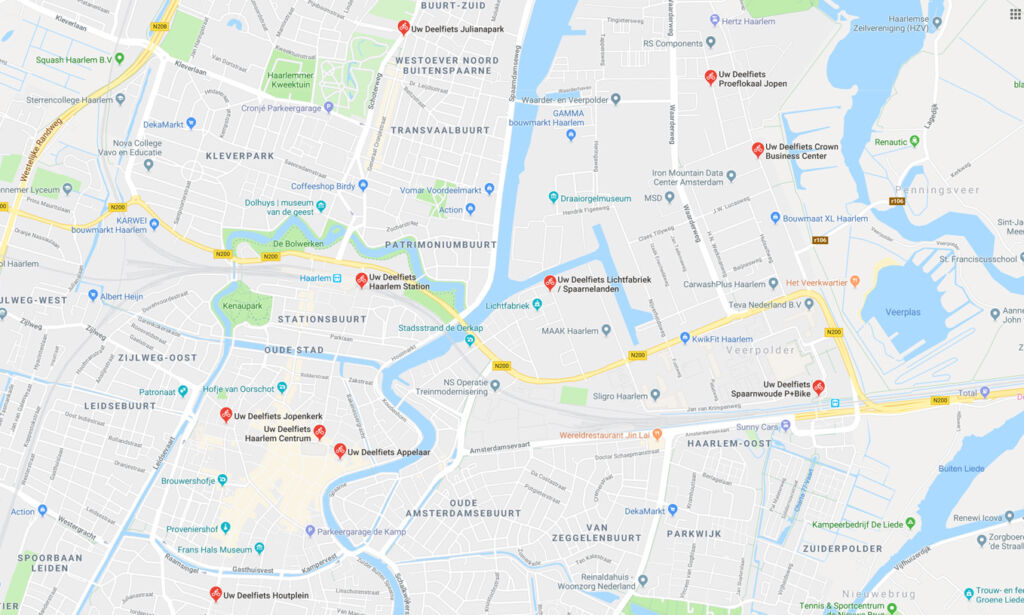 Enjoy Haarlem  and get informed at the tourist office at the Grote Markt 2, close to our bike hub Centrum.
Do you want to go outside Haarlem. Rent a bike and spend a couple of hours at:
Zandvoort Beach through the dunes: Learn surfing, take a swim in the sea, dry with a bite and a drink at one of the many beach-places. Go to the circuit and watch a race match.
Bloemendaal aan Zee, you will find the coolest beach place with many top beach tents.
Do you want some rest, bike or walk in our National Park Zuid Kennemerland.
Spot the airplanes when they start or land from a couple of meters distance at Hoofddorp IJweg.
Check the bulb fields and the Keukenhof from March till May. Check this if you would you like a special deal with train, bike and entrance to Keukenhof.
Have fun and enjoy! Rent a bike now!